Have you ever watched an episode of Chopped, and had a super weird food craving? Well, that happened to me, not too long ago. I somehow concocted the idea of a sauerkraut and sriracha pizza, and decided to give it a try.
In my head, this pizza was a cross between a Reuben sandwich (a personal favorite of mine) and an Asian stir-fry, piled on a homemade pizza. And yeah, I know, that sounds super weird… but it turned out remarkably tasty. A little savory, a little salty, a little spicy, and the pizza crust is amazing.
This is a recipe you can make completely from scratch, or pull together pre-made components to save time. I will break down the components in recipes, so if you have an hour and a half to turn up the music and get your cooking on, you can totally customize this recipe! Then at the end, I will simplify it, to make it possible to prepare in 30 minutes. Either way, this pizza is one of a kind, and a real conversation starter 🙂
Sauerkraut & Sriracha Pizza
Homemade Pizza Crust
1 package (1/4 ounce) active dry yeast
1/2 tsp sugar
1/2 cup warm water
1.5 cups all purpose flour
1/2 tsp salt
2 tbsp olive oil
In a small bowl combine yeast, sugar and warm water. Stir well, and let sit for 15 minutes until the mixture is foamy.
In a large bowl, combine flour and salt. Pour in yeast mixture and olive oil, and mix together with a fork. Once mostly combined, turn the dough onto a floured surface. Knead the pizza dough until smooth.
Lightly coat your large bowl with olive oil, then place pizza dough in the bowl, cover with a clean towel, and let rise for 1 – 1.5 hours, or until dough has doubled in size.
Homemade 30-minute Sauerkraut
3/4 cup white vinegar
1 cup water
4 cups shredded cabbage
3/4 tsp salt
1/2 tsp celery salt
1/2 tsp garlic powder
1/2 tsp sugar
Add all ingredients to a medium saucepan. Stir well. Bring water to a boil, cover and reduce heat to medium-low, stirring occasionally until cabbage is tender, about 15 minutes.
Asian Sirloin Steak
2 lbs sirloin steak
1/4 cup soy sauce
1/4 cup balsamic vinegar
1/2 cup olive oil
2 tbsp. sugar
4 cloves garlic, minced
Place steak in a shallow glass dish. Combine rest of ingredients in a small bowl, and whisk well. Pour marinade over steak, and marinate at least 1 hour, and up to 12 hours. Cook in a cast iron skillet, grill or heavy pan until almost cooked through.
Here is how to pull it all together!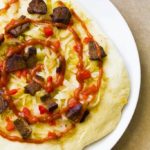 Sauerkraut and Sriracha Pizza
Ingredients
premade pizza crust

2

cups

sauerkraut

2

cups

sirloin steak

cooked

1/4

cup

roasted red peppers

diced

sriracha

to taste
Instructions
Preheat oven to 475 degrees.

Top with sauerkraut, sirloin streak and red peppers.

Bake in preheated oven for 8 – 12 minutes, or until crust is cooked and crisp. Allow to cool a couple minutes, then drizzle on sriracha in a circular pattern, starting from the center and rotating outward.
Now that is a strange but tasty pizza! What is your favorite "odd" pizza? Share in the comments below!