Looking for books for kids about feelings? Here are 10 great books that teach children about feelings and emotions.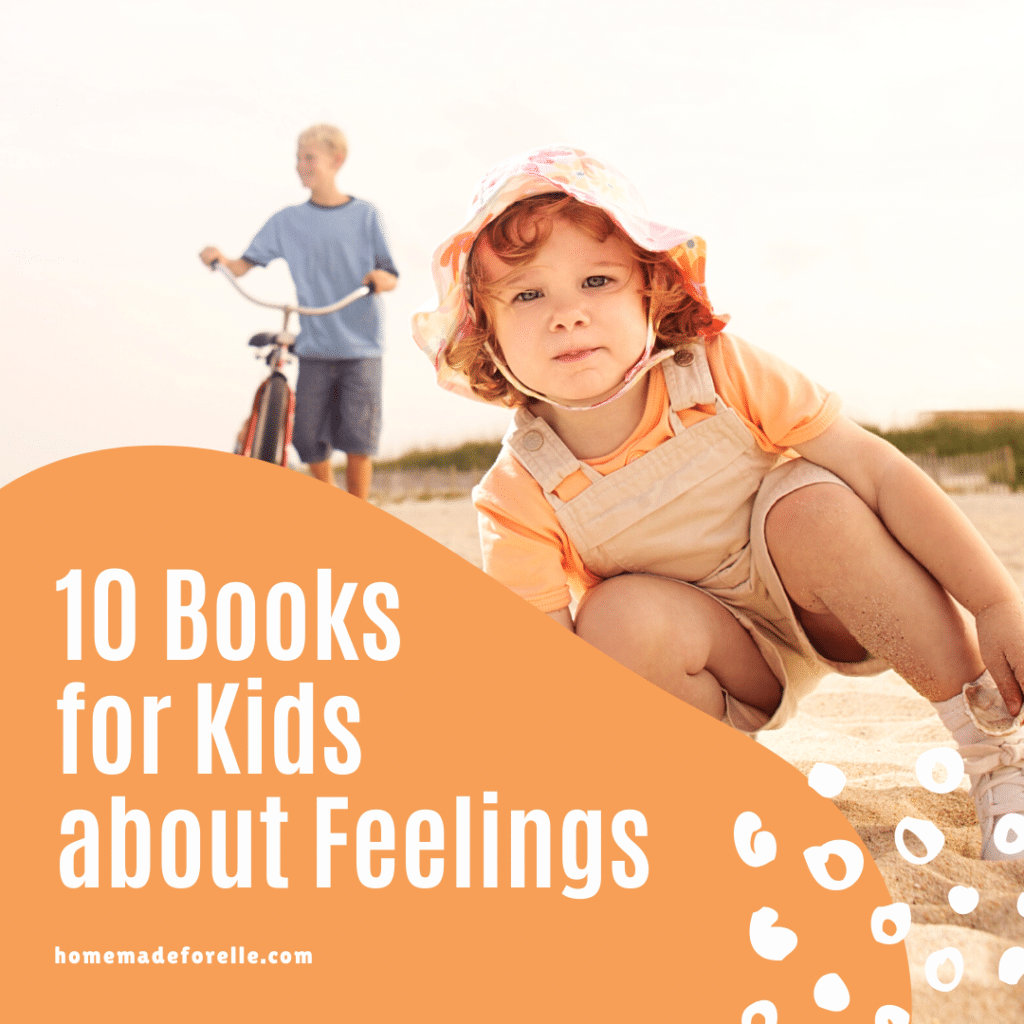 Children can have really big feelings and emotions. Reading them stories about feelings can help identify emotions and give them vocabulary for expressing how they feel.
I know that my 4-year-old sometimes has trouble expressing himself, so I picked up several books about feelings to help him.
Here are our 10 favorite books for kids about feelings.
Books for Kids About Feelings
Today I Feel Silly – Jamie Lee Curtis
Today I Feel Silly helps kids explore, identify, and have fun with the changing moods illustrated in this book. It helps kids understand that feeling silly, cranky, excited, or sad is normal and okay!
Feelings – Aliki
Feelings helps children understand and explain their feelings by fostering dialogue about emotions, while encouraging kids to be empathetic and open.
The Pigeon Has Feelings Too – Mo Willems
The Pigeon Has Feelings Too was handpicked to be in Amazon's Prime Book Box (a subscription box that inspires a love of reading in children). In the book, a bus driver tries to get the pigeon to act happy.
Alexander and the Terrible, Horrible, No Good, Very Bad Day – Judith Viorst
Alexander and the Terrible, Horrible, No Good, Very Bad Day starts with Alexander waking up and knowing it's going to be a terrible day (we've all been there, right?). This is a classic book that many of us read when we were kids!
Llama, Llama Misses Mama – Anna Dewdney
Llama, Llama Misses Mama is a great book for young children that get sad when leaving their parents at daycare or school. This book teaches Llama how much fun school can be while mom is away.
Listening to My Body – Gabi Garcia
Listening to my Body is an exceptional book that helps kids understand the connection between their sensations and feelings, and how they can get better at figuring out what they need. It's engaging and helps kids focus on mindfulness activities.
The Way I Feel – Janan Cain
The Way I Feel helps kids learn how to name their feelings, just like they learn to name shapes, colors, and other objects. The book focuses on helping kids connect words with emotions, so they can have open conversations about what they are feeling.
The Grouchy Lady Bug – Eric Carle
The Grouchy Lady Bug focuses on learning concepts such as time, size, shape, friendship, and good manners.
Thunder Cake – Patricia Polacco
Thunder Cake tells a story about how a grandmother helps her granddaughter overcome her fear of thunder
Today I Feel…An Alphabet of Emotions – Madalena Moniz
Today I Feel… brings a child through a whole range of emotions, from strong, to curious, to adored. It highlights that not all emotions are positive, or simple, but all are worthy of discussing with your little ones.
Pin it –>
Pin this to your favorite book board so you can grab these book suggestions anytime you're ready!
Do you have any other book suggestions that are great for kids? Leave a comment and let us know!